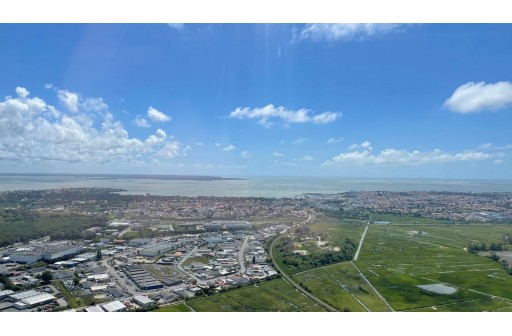  
ROYAN - Flight over Côte Royannaise & Fort Boyard 20min
Flight over Côte Royannaise & Fort Boyard 20min
Ticket valid for 2 years.
With this helicopter flight, you will fly over the panoramas of Royan and its surroundings.
Discover Royan and the coastline by helicopter. After taking off from Royan-Médis you will fly over the Church of Talmont, the typical caves of Meschers, the Pointe Suzac, the beach of Saint Georges de Didonne, the Pointe de Vallieres and the Conche de Royan. You will continue with the flight over Pontaillac, Nauzan and finally Saint Palais sur Mer and the Suzac Forest. You will finish this unforgettable flight with the return to the Royan-Médis airfield. --
Do not hesitate to go to the FAQ page to get all the information concerning the organization of your flight
Route :
Royan-Médic airfield > Talmont sur gironde > Pointe de Suzac > Plage de St Georges de Didonne > Grande Conche de Royan > Royan > St Palais sur Mer
Additional information :
Type of flight : Panoramic flight
Type of machine : Robinson R44
Shared or private flight : Shared flight
Safety briefing before flight : yes
Debriefing after flight : no
Possible flight during the week : yes
Possible flight on weekends : yes
Possible flight on public holidays : yes
Seasons to fly (period) : all year round depending on the availability of the machine. Activity subject to weather conditions. Possibility of postponement for security reasons.
Minimum age : only from 6 years old
Maximum weight: 120 kg
Clothing required for flying and restrictions:
Clothing: depending on the weather
Cap & sunglasses: recommended
Other: no bags allowed, strap required. Any person presenting a pathology must have the agreement of his doctor, it is the same for the pregnant women.
Insurance included : yes
Accessible to the disabled : yes (please contact us)
No customer reviews for the moment.